E-Procurement solution by ARP Datacon: reference case with Schweizerische Post
Thanks to a point-to-point connection between two SAP systems, the integration of processes between reseller (ARP) and purchaser (Schweizerische Post) took a matter of a few days. This solution holds high benefit potential since tasks previously completed by hand such as writing orders, entering job orders and issuing invoices have now been fully automated. The catalogue is simply administrated by the reseller, the purchaser can access it in real time at any time. At ARP stored ERP and e-shop data are not held on redundant servers, but are based on exactly the same data. The introduction of SAP simultaneously enabled the logistics to be optimised.
Background
ARP DATACON, established in 1990 as an independent company, was born of the then ARP AG (now Cabtec). The company's headquarters is located in Rotkreuz in the canton of Zug. ARP DATACON is owned by ARP Holding AG with a sister company, CC Data-Disc AG, in Zurich. ARP DATACON owns three subsidiary companies, in Germany, Austria and Taiwan. Both subsidiaries in Germany and Austria are trading companies with sales organisations. The Taipei subsidiary is purely a purchasing operation. In the following ARP DATACON AG will be referred to as ARP.

In 2001 ARP generated a turnover of over 154 million CHF, of which the Swiss market alone accounts for some 103 million CHF, around two thirds. The German branch office and the Austrian office contributed 21.4 million € and 13.5 million € respectively to the total turnover. Currently around a third of the turnover is already generated through the e-shop and the e-procurement solutions.

Last year at ARP's Swiss headquarters a total of 122 people were employed, of whom a significant proportion worked on a part-time basis. The holding company employs over 200 people.

There is a predominantly open culture which is demonstrably practised by the company's managing directors. The employees are motivated to give their highest commitment to their work. They are encouraged to fulfil customer needs, as proclaimed in the slogan "Everyone who works here is a reseller," to be seen in every room at head office.


Industry sector, product, target group and competition
As a trading company of products, accessories and consumer materials in the IT environment, ARP is the Swiss market leader in its segment. The company intends to maintain its position or even advance it in the next few years. ARP has appointed itself the goal of attaining and extending market leadership of the entire German-speaking area.

Some 80 % of ARP's customers are business customers and the company focuses on this target group. Therefore, there is relatively little mainstream advertising at ARP, as campaigns are aimed exclusively at its target group. Over 100,000 customers in Switzerland are supplied, the number in Germany is over 130,000 and in Austria the number is some 30,000.

The market is plagued by stagnation at the moment. With regard to IT products the market is already saturated and is only expected to show a moderate upturn in growth provided the economy picks up. Use cycles are becoming longer again, i.e. IT devices are once more generally being used for a longer period, indicated by, among other things, the significant fall-off in investment rates. With regard to consumer materials and network products, greater increases in investment rates are also expected in future.

ARP faces varying competition according to each product group. The most important competitors are listed in the following: Disdata, Rotronic, BĂĽro-FĂĽrrer, BĂĽro Waser, Simplex, plus all providers of PC and peripheral devices.


Company vision and core competences
ARP intends to maintain its leading market position and advance its number one status in German-speaking Europe by means of the following core competences:
A very wide range (over 10,000 articles) available round the clock (e-shop)
Able to supply 95 % of articles due to optimised stock keeping
Guaranteed supply within 24 hours, thanks to optimised logistics
Well-known brand, which stands for quality and service
Attractive prices
Quality guarantee with right of return
Optimum customer support thanks to free technical hotline
Guaranteed ecological safety
Proprietary brands CLAXAN and ARP DATACON
2. E-business vision and e-business strategy
Position of e-business in corporate strategy
E-business has long been an important element of corporate strategy at ARP a fact which is evident in the following comments made in the interview accompanying this case study:
"We will take strategic advantage of the enormous business potential of the internet."
Alex F. Häusler, President of the board of directors at ARP Holding AG

"We will take on challenges in the e-business area and tackle change in product technology, in order to continue serving you to your satisfaction."
Jörg Kientz, CEO ARP DATACON group

The vision runs as follows:
ARP intends with innovative e-business solutions to be a desired partner for companies, thus offering the latter significant added value. Armed with its e-procurement and e-commerce solutions, ARP intends in its market in the IT industry sector (trade of products, accessories and consumer materials) to advance its market leadership position or attain this position where the company is not yet Number One.


Where e-business is deployed in the company
ARP has focused and specialised in the two areas of application e-procurement and e-commerce, with successful results. An intranet is not yet in place at the moment, but is planned.


Partners
It was decided after thorough evaluation to replace the old system with SAP because this solution would also simultaneously enable a fully integrated shop solution to be implemented.

Procurement partners /ERP providers
The most important partner with regard to these business areas is SAP. ARP has in conjunction with SAP simultaneously implemented the ERP solution with the e-shop (SAP Online Store). Other partners are Ariba and Conextrade; these have realised interfaces with several customers to whom this technology is available or who are connected to the market place.

ERP providers /existing IT partners
Prior to the introduction of SAP, the ERP system "Steeb" was used. There was a website at that time, used mainly to present the company and a few products, but no more than that.

Internet agency
The company does not work with an internet agency. The necessary competence has been built up in-house with a team of four employees, whose main task is to take care of any electronic sales or marketing work.

Schweizerische Post as a customer of ARP's e-procurement solution
45,000 people are employed by the Swiss postal service in a group divided into four business areas, mail, goods and logistics, financial services and passenger transport. The company is the Number One on the domestic market and in international transportation with Switzerland. Core competences of the postal service include despatch/delivery of letters, parcel and express deliveries, payment transactions and road-bound passenger transportation. The post has deployed modern e-business solutions in its core competence areas for some time. The group's purchasing department, which thanks to an SAP environment and integrated processes has gained significantly in efficiency, is described in this case study.

Itelligence AG
As the post uses SAP itself, it has called on consulting firm Itelligence AG, Berne, for implementation and connection to ARP's SAP system. Itelligence AG, an international SAP full service provider, employs some 1,450 people and is present in 18 countries with 45 branch offices. Itelligence has realised complex projects in the SAP environment for over 750 customers worldwide.
The fundamental objective was to have available a system which can fulfil varying customer requirements. Thus it was clear that it would be necessary to provide where needed interfaces and processes for an extremely wide range of systems in the most important market places. ARP has at its disposal solutions both on the sell- and buy-side.


Sell-Side Solution
Firstly, with the aid of the sell-side solution, which is the focus of this case study, different SAP systems can be connected directly using the SAP Business Connector. Moreover, the system also allows other connection alternatives for customers using marketplace software solutions from Ariba or Commerce One. As Conextrade bases its products on the software solution from Commerce One, Conextrade customers can now be integrated swiftly into the processes. Fig. 3.1 shows the connections which are possible with the ARP system.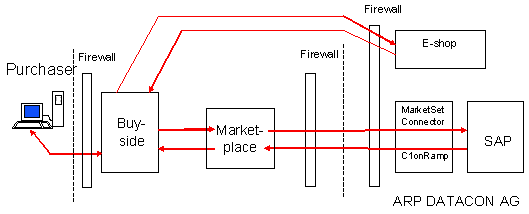 Fig. 3.1: System plan


Buy-side Solution
ARP procures its goods from several suppliers, such as, for example, COS, ALSO ABC, Excom and Ecomedia likewise electronically by means of e-procurement. Basically the same challenges present themselves here as in the case of the sell-side solution: optimisation of process costs should ideally enable costs to be saved in the purchasing process, too.


The Solution with the Schweizerische Post as customer
The Post solution was integrated by connecting two SAP systems via the SAP interface of the Business Connector.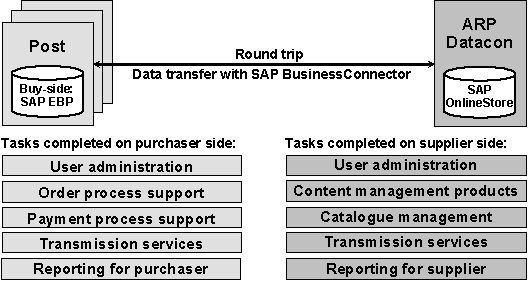 Fig. 3.2: How tasks are shared between ARP and Schweizerische Post

Fig. 3.2 shows clearly which tasks are handled on the supplier side and which on the purchaser side. The catalogue is administrated and managed exclusively by ARP. Post employees can access information in the current ARP catalogue during the procurement process (round trip) and place an order.

User administration
ARP gives each customer an individual debitor number. When a Post user purchases from ARP via round trip using the Post's own SAP EBP system (Enterprise Buyer Professional) the debitor number is transmitted in the course of a login procedure. After this has been completed, the user is automatically granted access in the e-shop to the specific prices negotiated with the customer.

Content Management Products
Content management functionality is integrated in the SAP OnlineStore (e-shop).

Catalogue management
The Post accesses the current catalogue provided by ARP online. As the customer has to log in, the catalogue can be displayed according to customer-specific parameters.

Order process support
The ordering process is mainly supported by the SAP modules OnlineStore and SAP-SD (Sales & Distribution) on the ARP side and SAP EBP on the Post side (see fig. 3.3). These modules enable functions such as, for example, "Find a price", "Availability" and "Enter order".

Transmission Services
Business Connector's function is in the first instance to convert different data formats (e.g. XML, ASCII, etc.) into a SAP-readable format. Business Connector also handles data distribution via the internet to required locations (e.g. FTP).

Reporting
Evaluations are conducted at ARP with the aid of the SAP module VIS (Vertriebsinformationssystem - Sales information system). The module enables turnover amounts to be evaluated according to various criteria.


Processes, roles and functions [Order process]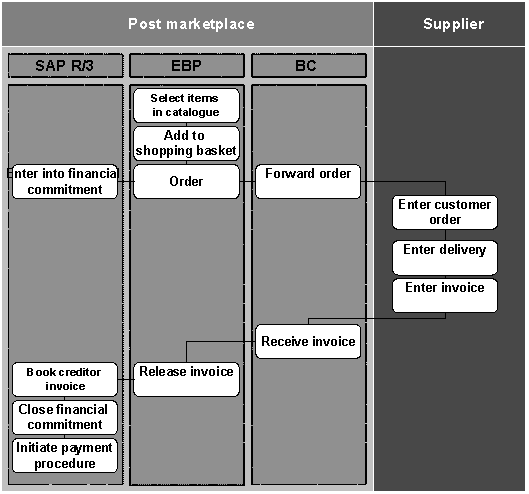 Fig. 3.3: Process from the perspective of the Post

Fig. 3.3 shows the stages in the process between the two systems. After the user has selected the items online and has submitted an order, the data are sent via the Business Connector (BC) to ARP where they are received by the other Business Connector and processed. Using the data transferred, customer order, delivery and the invoice are all compiled; these are in turn transmitted to the Post system via the Business Connector.
SAP Complete Solution
Realisation of the solution/redesign of processes
The ERP solution Steeb which had been used prior to the introduction of SAP would have had to have been modified to overcome the Y2K problem. For this reason a new solution became a serious consideration and a decision was taken to replace the solution in place with SAP (Module FI, SD, MM/WM).

As there were only a few employees in the company with the experience necessary to implement this kind of migration project, the Frauenfeld company SLI Consulting AG was commissioned to integrate the SAP solution. The SLI project team, with between four and eight members at different stages, realised the project, assisted by three specialist departments: Sales, Purchasing/Logistics and Finance.

First the existing processes were analysed and examined for "SAP capability". The basic aim was ideally to deploy standard SAP processes. In a few cases, however, a deviation was required.

Change Management
Over a weekend towards the end of August 1999 the old system was decoupled and the new system was put into operation. Implementation was completed simultaneously for all three natinal organisations in Switzerland, Germany and Austria. Both the ERP system and the online shop were likewise put into operation simultaneously.

Staff had been trained to use the new system prior to its introduction. However, the motto "learning by doing" was put into practice more than anything else. During the first phase of introduction on-the-spot support had been guaranteed for any problems that arose. Introduction went without a hitch.

Technical platform and architecture
As mentioned earlier, the entire software solution is based on SAP, firstly as an ERP system and secondly as shop solution.

The particular advantage of the solution lies in the fact that data are not held on redundant servers and therefore do not need to be duplicated. All the data recorded in SAP Online Store is based on the respective current data in SAP's ERP system.

The technical platform is based on standard solutions - mainly Microsoft components. Applications run as a rule on Windows NT servers. The database server used is MS-SQL.

Formation of SAP team
In order to minimise subsequent requirement for external consultancy, an SAP team with four members was formed, whose main responsibilities were as follows:
Leadership of SAP projects, including new connections via the SAP Business Connector
Maintainance of the SAP modules
Monitoring tasks


E-procurement: reference solution with the Post
Since both companies had SAP in place, the objective of this project was chiefly to define and implement processes, interfaces and data transfer formats.
Implementation was assisted by consultancy firm Itelligence in Berne. As neither the Post nor ARP had a great deal of experience in this area, the company was forced to invest in educating itself technologically. With the current level of knowledge, this kind of project can now be realised within a timeframe of some two to three weeks and with manpower expenditure of a few days.
Maintenance
ARP deploys two teams for system maintenance: the SAP team is in charge of the entire SAP system, including the Business Connector and the internet team takes care of the website.


Benefits
Phasing out the old ERP system
Here the question arises as to what would have happened as regards costs if the company had continued to work with the former system. Servicing costs for the old system had indeed increased dramatically. In addition, the Y2K modification would have been very cost-intensive. This was the reason why the company opted for SAP as a globally accepted standard solution.

Avoiding double input
All orders which were submitted electronically (by means of e-shop or e-procurement solutions) need not be re-entered into the ERP system.

Warehouse optimisation and logistics
Introduction of standard SAP processes brought with it immediate optimisation of logistics processes. The company is working for the first time with EAN barcodes, which reduces the number of errors and accelerates processing. In addition, picking lists could be sorted by warehouse location, which saves a great deal of time when picking a customer's order. Furthermore, dispatch workflows could be optimised, order turn-round times shortened and stock discrepancies greatly reduced.
According to the Head of Logistics, productivity in the warehouse has increased under the new system by 25 %.

Increasing customer and employee satisfaction
Not to be underestimated is the increase in customer satisfaction achieved thanks to precise execution of orders with quality control, which at the end of the day has a positive effect on turnover. Modern systems, simple workflows and system-defined quality controls have improved employee satisfaction which raises the overall quality of service and results in a higher level of customer satisfaction. Through these secure, reliable and efficient process structure, ARP employees can focus their activities on customer contact.

Swift implementation of other interfaces
The great benefit of the SAP solution lies in the swift implementation of an interface with a customer, as shown in this example. Work required for integration of the solution with the Post amounted to a few man days. And here is another advantage of the solution: because standard processes and standardised interfaces are used, implementation of other solutions is very swift and can be realised without a great deal of time and cost outlay.


Costs
ARP spends some 5 million CHF a year on development and extension of its IT systems.
It was not intended in the context of this study to make a cost-benefit evaluation of the SAP complete solution. This decision was strategic and has nothing to do with the sub-project "Post".


Profitability
An actual cost-benefit evaluation was not conducted as a strategic and conscious decision was made not to do so. As an indication the following can be taken into consideration:

Of some 240,000 orders received annually, approximately 100,000 were transacted by means of e-procurement. Assuming a cost-saving for order entry including credit check of an average 5 minutes and an internal cost rate of 50 CHF per hour, the saving made by implementing this measure alone is over 400,000 CHF.

Thanks to the optimisation of the warehouse, one and a half jobs could be dispensed with, which produced annual cost savings of roughly 120,000 CHF. In addition, warehouse losses (stock discrepancies, shelf warmers) were dramatically reduced.

Also, the cost saving made through joint data sources of ERP system and e-shop should not be underestimated. In many companies, redundantly held data must be duplicated and compared, incurring a great deal of time and work expenditure. The number of errors is a good deal higher in the case of this kind of system than in that of the ARP system.
Special features of the solution
The greatest difference compared to the former situation is the complete integration of ERP and e-shop. Data are held and updated in the ERP system only and can be accessed in real time in the shop.

As the connection is point-to-point via the SAP Business Connector, there is no need for special catalogue management (round trip) and entry of the order and the invoice can be completed fully automatically.


Changes
Previously, all orders, no matter how they made their way to ARP, had to be entered manually. This work is no longer necessary, thanks to the e-business solutions. Now, all orders submitted electronically (e-shop or e-procurement solutions) need not be re-entered into the ERP system.

Difficulties
Overall, the implementation is not very complex, as shown in the case of the solution with the Post. Difficulties were experienced on this project during testing of the process, as the correct configuration of the firewall had to be established.

Benefits
Today the following benefits can be established with regard to the solution with the Post:
Processes are integrated
No manual recording of orders, order entry and invoices
Good customer retention

Lessons Learned
Structured procedure at the analysis stage
With regard to the example of the Post, the challenge was approached in a relatively unstructured way due to the lack of experience. On the basis of the experience of the project, a comprehensive checklist was drawn up, containing all necessary key data collected systematically from the employees using the newly implemented system, such as, for example, system environment, processes and data formats. On this basis, an implementation can now be realised at ARP in two working days, provided nothing beyond the already supported standards is required.

Thorough testing of the processes
When mapping the process, minor details were overlooked in the initial phase. Thus, fields were defined, e.g. delivery location, which were then transferred from one system to another but not used. In future, processes are to be tested thoroughly for completeness and accuracy.
Eugster; Jörg (2002): ARP Datacon Case Study; in: Schubert; Petra; Wölfle; Ralf; Dettling; Walter (Eds.; Procurement im E-Business; Munich; Vienna: Hanser Verlag; 2002; pgs. 179-192.