B2B Solutions for Electronic Ordering and Information Exchange at the Olin Corporation
Olin Chlor Alkali Products is a division of the Olin corporation headquartered in Cleveland, Tennessee. This division produces the compound products chlorine and caustic soda through electrolysis. In view of the high transportation costs, these products can only be offered to a regional customer base. Olin Chlor Alkali Products improved customer satisfaction by providing customers with order-related information such as analysis certificates and tracking and tracing functions through its website. At the same time, the web solution increases the productivity of sales personnel. For major customers, the concept of the "virtual pipeline" envisages the direct connection of ERP systems. This ties the customer more closely to the company and allows both partners further cost savings through an automated ordering process.
Overview. Olin Corporation is a Virginia based company, incorporated in 1892, having its principal offices in Norwalk, Connecticut. This manufacturer of basic products concentrates in three autonomous business segments: Chlor Alkali Products, Metals (copper alloy products) and Winchester (ammunition). Olin Chlor Alkali Products is the world's seventh largest producer of chlorine, caustic soda and related products with a capacity of 1.22 million Electrochemical Units (ECUs) per year. As a division of Olin Corporation, Olin Chlor Alkali Products employs some 850 people at its headquarters in Cleveland, Tennessee and four facilities located in Tennessee, New York, Georgia and Alabama.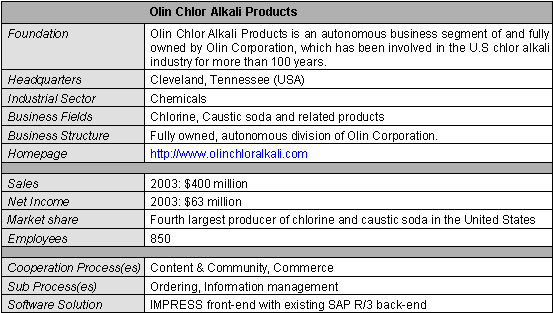 Figure 1 1: Brief profile of Olin Chlor Alkali Products


Challenges of the alkali business. Chlorine and caustic soda are co-produced commercially primarily by the electrolysis of salt. These co-products are produced simultaneously in a fixed ratio of 1.0 ton of chlorine to 1.1 tons of caustic soda, also called one ECU (ElectroChemical Unit). Because chlorine and caustic soda are produced in a fixed ratio, the supply of one product can be constrained both by the physical capacity of the production facilities and by the ability to sell the co-product, too.

Only a small amount of Olin Chlor Alkali Products' chlorine and caustic soda made in the US is consumed in the production of downstream chemicals, e.g. sodium hypochlorite bleach, muriatic acid, sodium hydrosulfite. Vertical integration among other chlor alkali producers, however, is common. Chlorine and caustic soda not used internally is sold to third parties. Since transportation costs account for a significant part of the final price to the customer, Chlor Alkali Product's customer base is geographically limited to 300-500 miles around a plant. Olin maintains long-term relationships with its approximately 300 merchant market customers (other chemical companies) that are serviced by 10 account managers. Most of these customers were concentrated in the slower growing end markets for chlorine, such as inorganics and organics, and less concentrated in the faster growing, but larger, urethanes and vinyls markets. Olin needs to continue developing relationships with these customers and other customers in higher growth after markets. The complexity of managing these and the existing customer relationships is a major challenge.

Pricing is market based and is highly competitive. However, Olin's goal is to contract all of their production and therefore reduce the need to sell surplus product on the spot market. Olin has participated in auctions, but concluded that their current design is inappropriate in a high customer service business. In these markets service creates a value that is not as easily comparable to competitors' offers as the product itself.

Olin tries to position itself as the service leader in its markets through multiple supply options, order & billing methods, and fast response times. This results in complex customer relationships. The aim of Olin Chlor Alkali products is to become their customer's preferred supplier.
Strategy. Olin Chlor Alkali Products aims to be viewed as a preferred supplier. As such, it focuses on providing quality customer service to its merchant market customers. These services include: special delivery, rush delivery, local inventory (vendor managed inventory), and competitive pricing. Information is sent by request.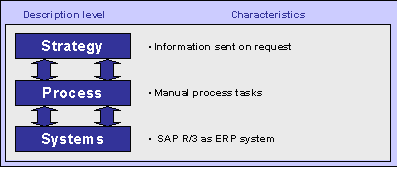 Figure 2 1: Main Features of Olin Chlor-Alkali Sales Business


 
Process. Chlor Alkali Products customers order via phone/fax, with the majority of orders placed through the telephone. Due to the high level of service, exchanges of product/order related information (Certificate of Analysis, invoice, etc.) are sent as paper (fax/mail) documents.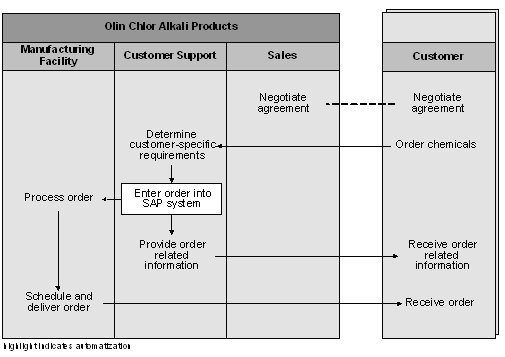 Figure 2 2: Sales Process at Olin Chlor-Alkali


 
Systems. Prior to 1996, Olin Chlor Alkali Products used main frame based legacy systems for accounting, order management, and logistics. Olin Chlor Alkali Products installed SAP in 1996 in response to the increasing business needs of the division. The multiple systems used no longer allowed Olin Chlor Alkali to process information efficiently between its four manufacturing facilities and the headquarters location. The need to upgrade and maintain four separate systems increased the advantages of a central SAP system.

Problem Perception.
Olin participates in a commodity market with a high price change velocity. Despite its SAP ERP system, a better method of communicating and confirming price changes with customers was needed.
Further, Olin Chlor Alkali Products participates in a very cost competitive commodity market and thus has a continued need to further differentiate itself through service and customer relationship management.
Goals. Olin sought areas of business improvement through information technology, with the main initiative focused on using e-business to streamline processes that impact customers to further develop and maintain its high level of customer service. From this, two projects were identified:
Customer web site. Develop a customer web site for electronic information delivery (i.e. Material Safety Data Sheets, product specifications, invoices, etc.) and product ordering capabilities to support "normal" customers and
Direct ERP-to-ERP-connection. Establish "virtual pipelines" (direct ERP-ERP connections) with its customers to increase customer lock-in with enhanced service and ease of use. Olin uses the term "virtual pipeline" to refer to the importance of pipelines as it is the easiest supply scenario for a customer in the chemical industry. Eastman Chemical was selected as a partner for this project due its importance to Olin: a long term, large (15 M (15,000) tons/year of caustic soda) customer within close proximity (Kingsport, TN). Further, Eastman is considered an e-business pioneer and already had an SAP ERP, as did Olin. Eastman, had already launched electronic channels to its customers and started to integrate its suppliers.

Execution. The project started in May 2000 with Olin defining its e-business vision by developing vision maps to identify challenges and to define responsibilities and surveying customers to understand their needs. However, a potential merger (with a competitor) in June postponed the project until March/April 2001. The e-business team consisted of mainly internal Olin personnel, since it was felt that it was easier to train Olin people to use SAP than to train SAP people to understand Olin's business. The web site team consisted of 13 members: Gene Bolick (Director, Customer Support – Team Leader), Customer Support (4), Sales (3), e-business (1), IT (2) SAP (1), Financial (1) and representatives from IMPRESS, the middleware vendor, for the installation and web design. After the realization of the web site, the pilot connection to Eastman Chemical followed, which also was implemented by Gene Bolick and a 5-person team.
Main challenge of the project was to meet customer's needs:
Web site. To overcome the customer acceptance hurdle of the website for information delivery, Olin Customer Support representatives extensively tested the website as "pilot users" before roll out to customers, since they would be the primary customer interface between the Olin website and customers. Customer roll out was on a one to one basis, with the sales representative responsible for demonstrating the website to their customers while on a site visit. Currently there are 80 individuals representing several of Olin's customers using the Olin website.
Direct connection. Eastman Chemical had originally approached Olin about establishing a virtual pipeline, thus there were no acceptance issues. Currently, Eastman Chemical is the only customer connected with a virtual pipeline. The main challenge with the Eastman Connection was to design a computer based system to handle a human business process.

Critical Success Factors. According to Gene Bolick, key factors to the successful implementation of both sub projects were:
The company's computer-literate culture. Olin prides itself on having a very computer literate workforce, which made adopting a new e-business solution within the organization easier. For example, it used part of its profits in the mid 1990s to provide every employee with a PC in order to take advantage of the digital revolution before other companies.
Staffing the project team with Olin personnel. While, 80% of business processes are logical (i.e. used by other businesses), 20% are often special cases that are unique to Olin (which requires insider knowledge).
Rapid prototyping of the web front end. IMPRESS provided a web developer during web site design meetings, which enabled Olin to quickly view results of website changes.
Taking small steps. Olin recognized that it was not a leader in e-business, and would follow in the steps of others to learn from their successes and failures.
Focus on customers needs. Olin creates customer value through personalized service, and web site was viewed as an enhancement (not an alternative) to that service. This creation of additional value improves customer loyalty.
 
Strategy. Olin provides product and order related information and product ordering capability via the Web for "normal" customers. In addition to its information services which are available to all customers through the website, Olin created a direct business-to-business integration to their high value customers (e.g. Eastman Chemical) to make Olin their easiest supplier to deal with.




Figure 4 1: Characteristics of Olin's B2B approaches


 
Processes. The customer web site and the direct ERP-to-ERP-connection simplify the ordering. The potential automation level and with it the form of cooperation processes depends on the chosen technology.
Web site. The portal allows the customer to order directly via the Internet. In this case the fed data are first checked up on their plausibility by the customer service representatives and afterwards automatically written into the SAP R/3 system. The typical process flow is illustrated in Figure 4 2.

While Web ordering is possible, most Olin customers continue to order via phone or email to their Customer Service Representative (CSR), who will then enter the order directly into SAP. Olin currently has less than five customers who order using the web site, but new customer requests are accelerating. Further, customer orders via the web require review to determine appropriate ship and delivery dates.

The primary use of the website is for electronic document delivery. Invoices, certificates of analysis/compliance, rail car return papers (for returning empty rail cars), technical information sheets, NAFTA certificates, and material safety data sheets are all available online and available for download.

Additionally, order tracking (open, on hold, shipped), invoice tracking (all invoices, sorted via date), and rail tracking is available online. To locate rail cars Olin uses information provided by service provider Kleinschmidt, who tracks rail cars all over the U.S.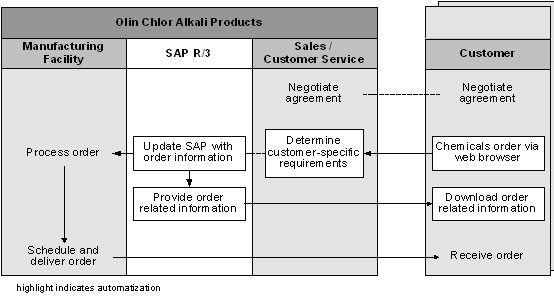 Figure 4 2: Order process of web-site customers
Direct ERP-to-ERP connection. Direct Connection additionally allows high value customers to place and change orders directly in Olin's ERP system. The actions are monitored by Olin to avoid errors and maloperation. The customers ERP system is directly updated with the order information (purchase orders, ship dates). So there is no need to download these documents from the web-site and to enter it into the ERP system manually (cf. Figure 4 3). Additionally, some information is provided via automated email.

Direct Connection allows Olin to see customers' expected price, e.g. Eastman puts its "expected price" in its SAP system, where Olin can see it and decide to fulfil the order or not. At this time, only orders for railcar quantities of products are available for direct ordering.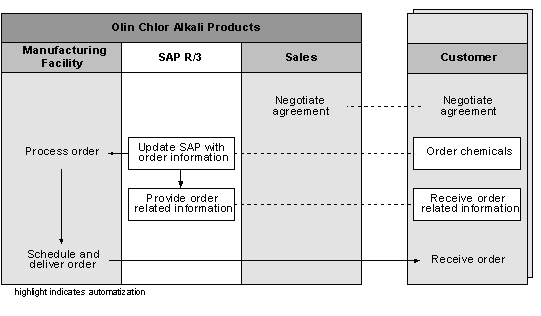 Figure 4 3: Order process of customers with "virtual pipelines"


 
Systems. For its B2B solutions (web site and direct connection) Olin Chlor Alkali Products utilized IMPRESS to integrate its back-end applications, namely its SAP R/3 ERP and an Oracle database, which is part of the IMPRESS engine and links to the Olin Railcar database. This database is updated three times a day with information stored in Kleinschmidt's rail car database.

Both applications are handled by the same Impress Engine. The web application is evenly spread out over foreground host (Java Server Pages/frontend) and background host (R/3 and database requests/data layer). The XML application is solely handled on the background host. The foreground host is used as the gateway for the actual document send/receive.

The Oracle database holds the engine repository as well as application specific data. Some of the data (customers, materials) is replicated from Olin's SAP system to speed up access. Other tables hold the web site shopping cart and XML order data. Another portion of the data is needed to manage the XML connection and certain system functions. The rail car database is a separate Oracle instance needed to provide rail car data for the web application and to estimate shipping dates (SAP R/3 delivery date - rail car database transit time) for the automated XML document creation.

Figure 4 4 gives an overview over the system architecture of Olin's B2B solution and its different ways of exchanging data with customers.
The process implements the CIDX standard which is becoming more or less the XML standard for the chemical industry. All documents carry a digital signature according to PKCS7 and are transmitted over a SSL connection. Trading partners exchange the SSL certificates to enable everybody to authenticate the received documents.

The data change depends on the chosen connection category (cf. Figure 4 4):
Web site. The ERP system to web solution utilizes and is fully integrated with Olin's existing business processes within its SAP solutions to create and change orders, display invoices and publish downloadable documents like invoices, return railcar papers and certificates of analysis. Also, SAP master data is replicated nightly to the Web site to speed response times. Further, IMPRESS publishes downloadable product information in Adobe Acrobat format that is stored in Olin's content management system. User management is within IMPRESS middleware. Access to the web site is restricted by role (administrative, buyer, account payable, receiving, quality control) and is customer site specific, i.e. some Olin customers have multiple manufacturing facilities, each with different information needs (pricing, delivery, etc.).
Direct ERP-to-ERP connection. Direct ERP to ERP connection is made possible by the IMPRESS Engine middle ware, too. Olin's SAP ERP system handles all order processing, and the IMPRESS Engine provides the middleware converter necessary to connect Olin's SAP to its customers ERP system via XML. For its Direct Connection with Eastman Chemical, IMPRESS connects with Eastman's Web Methods interface which is connected to Eastman's SAP ERP system.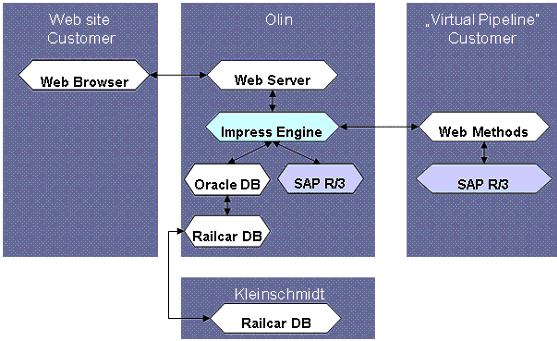 Figure 4 4: System Architecture of Olin's B2B solutions


Cost/Benefit. The launch of the Olin Chlor Alkali Products B2B solutions is viewed as a major step in reaching Olin's vision of using the internet technologies to bring more value to its customers and order fulfilment processes.

The web site solution increases the availability of Olin's information services. New tracking solutions (orders, invoices, and rail cars) provide added value to the customer. Additionally, Olin has realized cost reductions through improved productivity in its Customer Service organization through the elimination of manual tasks (e.g. faxing MSDS, order tracking, etc.).

Direct Connection adds additional value to strategic customers, because the direct ERP to ERP connection is a further step toward a fully automated process and saves additional cost and time in order processing by allowing real time transactions and communication. Olin has not only realized cost reductions through improved productivity and reduction in order errors but also enhanced the lock-in of its customers, who would face an increased effort when changing the supplier. Nevertheless, for Olin this connection to Eastman was only the very first step and as they add more customers/suppliers/market places to it, the application will start to show its benefits.

Further Development. With Olin Chlor Alkali's customer focused e-business strategy completed, its other e-business initiatives include:
reducing its overall procurement/distribution costs through logistics software,
buying and selling materials and supplies through an e-procurement solution,
optimization of its manufacturing facilities,
continuation of improvement of its customer focus through implementation and automation of CRM and its customer call center.

Direct Connection is more valuable for Olin with its high value customers due to increased lock-in. Olin continues to explore opportunities in marketplaces (such as Elemica.com a chemical industry exchange), but feel that at this time, there is not the critical mass of customers and therefore transactions available to justify the investment. Olin considers itself a small company that can't be the pioneer in e-business. It has adopted a "smart follower" IT strategy, in which it looks to see what works for similar companies and strives to make it better, cheaper, and faster.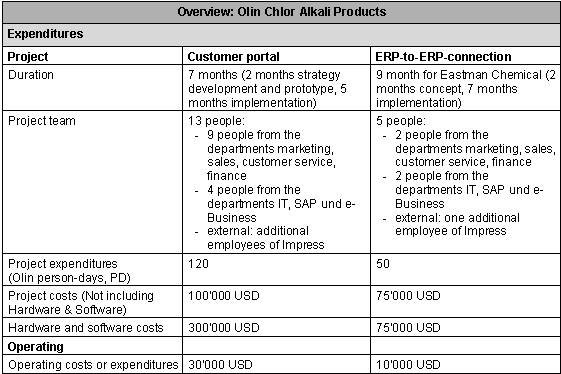 Figure 4 5: Olin Chlor Alkali Products Internet initiatives – Expenditures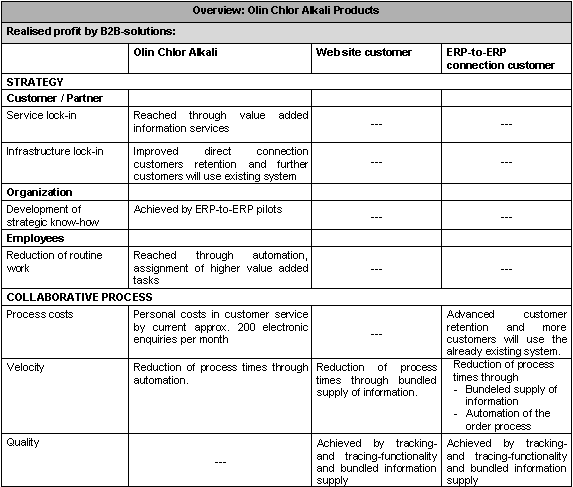 Figure 4 6: Olin Chlor Alkali Products Internet initiatives – Benefits Achieved
Despite operating in a commodity chemicals business, Olin Chlor Alkali has shown that adopting a smart follower strategy in e-business investment can provide added value to customers while realizing cost savings for Olin. Further, taking the time to understand what their customers want, has led them to develop two solutions to address customer needs: a web site where customers can readily retrieve information and documents, and a "virtual pipeline" with a major customer enabling direct transfer of orders and updates from system to system. Olin's customers have always known that they strive to do more than is expected. With a geographically limited customer base and few (5 or 6) competitors, Olin understood the importance of its customer base and realized that customer lock-in is more important than cost reductions for a high service provider.

Special features:
To meet customer needs Olin developed two B2B solutions. This leads to the assumption that segmentation criteria like customer value can implicate different collaborative processes and thereupon aligned support through information systems and information technology.
Both solutions, web site and direct ERP to ERP connection, use the same back end and middleware. This allows a specific interface to the customer depending upon its systems and needs with minimized additional operating efforts.
Although, Olin's web site customers could order via web, they mostly prefer ordering via customer sales representative.
Lin; S.E.; Senger; E.: Fallstudie Olin Chlor Alkali Products - Informationsaustausch mit GeschĂ€ftskunden; Institut fĂŒr Wirtschaftsinformatik; UniversitĂ€t St. Gallen; St. Gallen; 2003; http://cases.iwi.unisg.ch