Business process support thanks to electronic instruments at OPO Oeschger AG
OPO Oeschger AG has been working to optimise customer service in the field of electronic communications for many years now. The IT solutions of this SME have undergone continuous improvement, with customer needs always taking precedence. Today more than a fifth of sales are handled using E-Business. The internal integration of the E-Business solution results in a high degree of automation when processing orders due to the inclusion of various (semi-)automatic warehousing and transport systems. With the incorporation of construction software for joiners, the external integration has a profound effect on the customer's processes and allows customers to reduce the number of capital-intensive parts warehouses.
OPO Oeschger AG is a trading company in the ancilliary building trade. With operations in four business segments, its long-standing trading business in accessories and tools is of primary interest for this case study and is a key area for the company. The other three divisions offer various consulting services which generate orders for the trading business. Industrial and commercial enterprises are supplied with a wide range of parts and tools for wood processing. Procurement takes place internationally and sales are predominantly on a national scale. Various sales channels are available according to customers' needs. The Internet-supported sales operation, which accounts for a fifth of turnover, now occupies a position of key importance.


Background

History
1926: Paul Oeschger founds the company in Oerlikon (hence its name, "OPO" Oeschger Paul Oerlikon)
1935: First edition of accessories catalogue
1972: Move to Kloten and use of the first computer for invoicing
1987: Field force employees are equipped with portable computers
1995: Major investment in state-of-the-art logistics systems with fully automated warehouse technology and a container handling plant
Table 1.1: Development of sales and staff numbers


Ownership status
Half the shares are owned by Peter Oeschger, the other half are held by Oeschger Holding AG, which is wholly owned by the Oeschger family.

Operating areas
Accessories and tools: Trade in accessories and tools for joiners, interior decoration and furnishing companies and the wood processing industry has been the core competence of OPO Oeschger AG for years. Various sales channels offering dispatch of goods to business customers are available. For private customers the only possibility is to purchase goods in the shop; this option is also used by business customers.
Workshop equipment: training workshops with didactically meaningful fixtures and fittings and an up-to-date infrastructure are one of the basic requirements for advanced manual training. Designing and furnishing workshops requires intensive consultation with customers and is not handled via E-Business. The deployed range of machinery, tools, furniture and expendable items stems from the product range of the accessories and tools division.
Home and design: amateur builders can view all kinds of accessories for doors, windows and furniture in the seven information centres in Switzerland. Shelving, railing and lighting systems are also displayed and the appropriate advice is offered. As performance partners for private customers, joiners can purchase the selected components via the accessories and tools division.
Safety technology and consulting: With its recently launched division, OPO Oeschger is marketing itself as a system provider of doors for large corporate buildings. Comprehensive consulting and coordination services are also part of its core business in this area. Deployed technical components can in turn be purchased from the fittings and tools division.


Management
Strategies are implemented at OPO Oeschger using the balanced-scorecard concept (BSC). Based on the four perspectives of finance, customer and market, processes, and employees and know-how, a causal network of control parameters has been developed to support the value-oriented management team. The BSC guarantees that projects and measures as well as team and individual goals are consistently geared to corporate objectives. In addition to clearly defined team objectives, individual objectives are also formulated with all employees on an annual basis. OPO Oeschger has had a competence model developed by which the abilities and performance of each employee are measured and personal development can be assessed. A joint understanding of management has been developed and trained in management skills workshops.


Industrial sector, product and target group:

Competitive situation
OPO Oeschger AG has a strong position in the industry. The next smaller competitor achieved a turnover of CHF 97 million in 2002 with around 140 employees. The companies' product range overlaps to a large extent. In the stiff competitive climate, each company is looking for its own USP. Owing to the interchangeability of trading products, the focus is on perfecting services. This applies last but not least to the intensive integration of processes from the customer (joiners) to the dealer and, in this case, the seamless integration of logistics and IT, in order to be able to meet the required reaction speed and delivery quality.

Product range and logistical infrastructure
The product range of OPO Oeschger comprises over 35,000 articles in the areas of furniture and building accessories, ironware, machinery, tools and training workshop equipment. The products are purchased worldwide from over 700 suppliers.
All kinds of warehousing models are available for storing the extensive product range: conventional compartmentalised floor warehouses on two levels, 2 x 4 automatic carousel warehouses, each 25m long, automatic and manual high-rack warehouses with a total of 8,000 spaces for pallets, approximately 600 m² block warehouses for non-palletisable goods, a sliding rack system and three automatic multitowers for long goods. The container conveying plant is barcode controlled and connects the small parts warehouse to the incoming goods, order gathering, control and packing departments. The total length of the conveying plant is approximately 1.3 km.

Customer structure
OPO Oeschger has more than 20,000 customers in the following segments:
Industrially organised companies, such as, for example door, window and furniture factories
Commercial enterprises such as interior installation, joinery and carpentry companies, architects' offices
Schools as public institutions
Individuals
Individuals are served exclusively via shop sales. All communication channels are open to corporate customers.

Out of the total of 20,000 customers, approximately 5,000 are in Germany. Even for Germany the logistics service is rendered from Switzerland. A sales base is located in southern Germany.


Corporate vision:
The corporate vision of OPO Oeschger lists two guiding principles which apply to employees, owners and the environment. The third guiding principle relevant to the case study:

We enhance our OPO partners'value. Through innovation and simple
processes we create quality and added value.

This vision is implemented through a whole host of measures aimed at the greatest possible benefit for customers (partners). Above all, the company aims to keep the costs for the buyer as low as possible. It should be convenient to order from OPO Oeschger. The choice of communication channels reflects this claim and the diversity of customers. "Making partners more valuable" also means that the partner can concentrate on its core competencies and has to spend less resources on procuring - from its point of view - relatively minor components.
The E-Business strategy of OPO Oeschger is based on its corporate vision and is aimed at achieving high customer loyalty thorugh the appropriate quality of services. OPO Oeschger has been single-minded, but also careful when implementing its vision, in the knowledge that customers need time and have to be motivated to conform to changes in processes and operative procedures. The current E-Business solution did not just evolve overnight, but has been gradually developed over many years. Peter Oeschger, Managing Director of OPO Oeschger, put the last ordering and information system into operation in 1988; it allows joiners to log in via PC or modem.
He invested a great deal of personal effort and conviction into improving this solution. In the first few years of operation customers generally did not have sufficient IT equipment, and so Mr Oeschger sold and installed the necessary modems peronally. His in-depth understanding of the process network led him to organise an initial fair for joiners' software in 1987. which on the one hand allowed him to make contact with the manufacturers of his customers' software and, on the other hand, to sensitise his customers to the concept of process support using IT tools.


Importance of E-Business in corporate strategy:
In 2002 the proportion of transactions processed using E-Business was 22% of total turnover. E-Business is accordingly a vitally important factor in corporate strategy. Since its beginnings in 1988, E-Business has never been construed by OPO Oeschger as an independent application and has instead always been seen as an integrated solution, i.e. as a connecting link of customers into the inventory control system of OPO Oeschger.


E-Business fields of application within the company:
The E-Business solution of OPO Oeschger is based on the sales side and can penetrate as far as a customer's CAD software. Payment transactions are processed conventionally via a billing system, i.e. not via a credit card organisation or such like. On the other hand, customers can view their account details online.
The orders are sent for internal processing once they are first released by an authorised OPO employee. Internal processing is then effected with a high degree of automation up to and including postal delivery.
An E-Business solution has not been set up for suppliers and an IT integration system is not part of strategic planning. The 700 suppliers still constitute an overly heterogeneous group, at least at present, and generally binding, worldwide standards have not established themselves yet.


Partners:

Internet agencies and choice of partner
IMIS AG in Zurich deal with the entire organisation of E-Business projects, from consultancy, concept development and design through to implementation. Process integration and ERP connection are some of their strengths, together with project management for implementation. One of the specialities of IMIS AG is its know-how in the field of cross media in exchanging customer-specific product information for various media, such as the internet, CD and print. This focus was also the background to the company's foundation in 1995. Its evolution into an E-Business company followed three years later. Well-known customers with similar business processes as OPO Oeschger include Distrelec and Bossard.

Integrated business partners
Business partners with which the external processes have been integrated are part of the overall customer base of OPO Oeschger. Information on this can be found in the "Customer structure"chapter.
Business aspect:
In this case study example it is not possible to make a direct comparison between the business before and after the launch of the E-Business solution as it is continually evolving. It is, however, permissible to compare conventionally operating companies with those using the OPO Oeschger solution.

Direct, i.e. order-based materials, such as screws, wood and coating materials, are in the main traditionally purchased via the warehouse. Commercial wood processing companies therefore often have an extensive warehouse with a correspondingly large capital tie-up. The procurement of operating materials, such as tools, machinery or software, are independent from this process, but the limits are changeable, especially in the case of less cost-intensive procurements. Examples for this are tools for specialised connection systems, such as Lamello.

It is an attractive prospect for wood processing companies if they can reduce warehouse size by purchasing components directly on the basis of customer orders. To do this some basic conditions must be met:
"Just in time" delivery at OPO Oeschger means that orders sent in by 4.30 p.m. arrive the next day by post. It is also possible to schedule the order for a specific date.
The range of products must be so wide that a substantial proportion of the required components can be purchased for a construction order. In order to facilitate "normal" constructions that have to be carried out at short notice, all the necessary components which fall within the offered range must also be callable in reality.
The trust in suppliers and the quality of delivery has to be large. In concrete terms, this means a delivery rate of 98% and a very low error rate, which is last but not least achieved by a high level of automation.
The goods must be delivered to the right place. To ensure that delivery is carried out in line with production, the goods may have to be delivered to a different address, for example, to the construction site.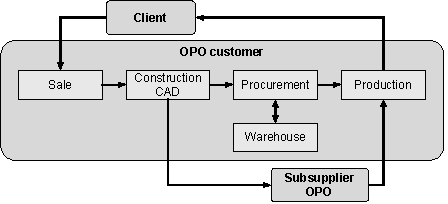 Fig. 1.1: Order-based "just in time" delivery from OPO Oeschger

Another advantage in addition to reducing warehousing facilities is that the joiner can submit orders on an ongoing basis during the construction process and therefore can avoid a backlog of orders accumulating.


Process aspect:
Various subprocesses between OPO Oeschger and its customers can be identified and assigned to the two categories of information processes and order handling processes.
Information processes
Some processes are information services which do not involve the transfer of goods and do not trigger any flows of cash either:
The database has to be updated periodically (replication) in order to be able to conduct the construction project with current data
An availability enquiry guarantees the feasibility of the construction
For people from the construction, production or financial field it may be difficult to enquire about outstanding orders
An account enquiry clarifies financial status
Customers can enquire about prices with their individual discount rates
 

Fig. 1.2: Information processes at OPO in E-Business



Order handling processes
The materials order triggers two processes:
Delivery of materials
Billing

Fig. 1.3: Order handling processes at OPO Oeschger

The billing and payment operations are dealt with conventinally. Order items which have been received via different channels, for example, via the internet and with additions by telephone, are summarised on one invoice. In order to cut forwarding costs, the invoice is sent together with the goods in around 50% of deliveries.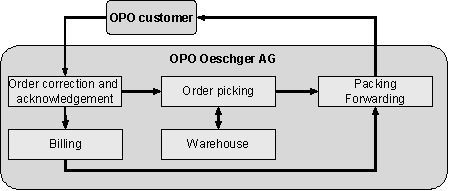 Fig. 1.4: Order processing within OPO Oeschger


Application aspect:
Fig. 1.5 shows an overview of the interaction between the various application components; individual processes are marked by figures in brackets. The processes of OPO Oeschger which do not show any direct link to the actual order handling are not included here. This includes replenishing the warehouse, for example.

Communication between the customer and OPO Oeschger
Both the various information processes and the actual order are initiated via local goods baskets. The "OPOBplus" programme is installed locally and provides six goods baskets (e.g. for different projects being processed). Each one can be sent via different channels: via the two product range presentations "SortiNet®" (Internet) or "SortiCD®", via parts list files (generated by the joiner's software) or manually (input, say, from the catalogue).

Sending the goods basket (5) via the internet triggers the processes in the inventory control system. An ASCII file is sent with a small amount of header information (customer number, project text for identifying the joiner personally, etc.). The order items contain article number, unit, quantity and, where applicable, additional text, such as dimension details. After the order has been released by the sales department, feedback is sent to the customer by e-mail (6). In future, the message will allow direct reuse in the joiner's software using XML.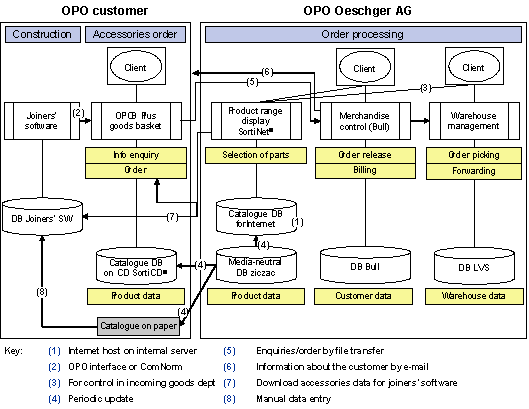 Fig. 1.5: Integration of the OPO Oeschger solution with joiner "OPO customer"

List prices for each displayed article can be openly viewed in the internet. The article prices and individually negotiated discount rates that apply to each order and price enquiry are deposited in the inventory control system (DB Bull).

Range description
The electronic product catalogue is located in the media-neutral database as a master copy. Three items are produced from this:
Printed calagogues (Sortilog®, tool catalogue)
SortiNet® for imaging via the Internet for internal and external purposes
SortiCD® CD-ROM for customers and field force
The data in the media-neutral database is continually replenished, but the media on which it is based is only updated periodically, see Point (4) in Fig. 3.5. The picture and text data for all new products is gathered by OPO Oeschger right from the beginning in order to achieve a uniform description and a consistent level of detail across the entire catalogue. Of the 35,000 articles, it is estimated that 1,000 are replaced each year. Efforts are being made to persuade manufacturers to supply standardised component descriptions which could then be directly utilised by shops.

If other product information is available, this is provided as files. A CAD parts library is available and supplies vector graphics for AutoCAD Release 14 or in DXF format. Downloading and integration into the sub-library of the joiner's software are carried out manually.

The product range description is also used for internal purposes. Employees in the incoming goods department are able to check the supplied goods against the order to see if they match graphics, dimensions and accompanying texts, see Point (3) in Fig. 1.5.

Integration into OPO Oeschger's customers' systems
In Switzerland joiner software from more than thirty different manufacturers is used. In some cases these programs support high integration levels with CAD functionality, machinery controls, warehouse management tasks and offer systems for specialised types of companies, such as window or door manufacturers. The joiner's programme has its own database. In order to satisfy the different programme requirements, the accessory data is incorporated by OPO Oeschger in different ways: manual entry (8), via the internet (7) as an OPO standard, DataNorm or, as a recent development, by XML (ComNorm). Electronic transfer is supported by around 50% of programs. The data fields are mainly restricted to aricle name and number, unit details, price details and a free text field.

ComNorm
The association of Swiss Joiners' software VSSS developed a joint standard for data exchange in the joinery industry, covering price enquiries, orders and other article information directly from the normal environment of a sectoral solution. ComNorm (www.comnorm.ch) serves as a portal; access software has to be installed at the customer's premises. The advantages of the communication standardisation will take effect once a significant group of suppliers offers information on its products in this way. Technical adjustments to the standard would be required here, as not all products can be described accurately enough with just a few details. Variable measurements, multilevel product structures, graphic property descriptions etc. are causing problems. The incentive is not that great for providers to participate in the ComNorm system.

One beneficial aspect is the possibility of compiling offers and price calculations with the data. Differing discount structures are now in use to set limits. In relation to OPO Oeschger, this does not present a serious problem for the joiner, as these components constitute a relatively modest share of the price of the finished product.

OPO Oeschger has invested in countless measures to develop its own integration up to the current standard. A little more time and effort will be required until ComNorm is widely used.

No standard ERP system
OPO Oeschger has a sophisticated inventory control system, which communicates with the various warehouse computers and also provides CRM functionalities. The field force and the branch in Germany are also linked to this system. It is implemented on a Bull computer and programmed by OPO itself in Cobol. In previous years it was also sold to other trading companies.
4. Costs, benefits and profitability
An order processed using E-Business achieves a time saving factor of around 10 compared to the conventional ordering process via post, telephone or fax. The internal time saving is achieved because media gaps in the process chain from the ordering stage to the forwarding stage are eliminated. Manual entry of received electronic orders is not longer required.

The quality of the ordering process is higher when using the E-Business solution, which in turn contributes to profitability. Since only effectively available articles can be ordered, the order is clear and largely error-free. The number of telephone queries is minimised and there are less wrong deliveries.

In addition to optimising the ordering process, another important factor is that a lot of customers use the internet solution to obtain product and price information. Enquiries are not longer made by telephone and the inhibition threshold to procure information drops, which in turn may lead to additional orders.

The advantages listed directly influence the profitability of the E-Business solution. The mutually dependent soft factors are however difficult to quantify. For OPO Oeschger it would scarcely have made any sense to isolate these influencing factors and to research their effects on business success.

The savings resulting from transferring tasks from the supplier to the customer are easier to quantify. When using the E-Business solution, orders have to be entered by the orderer. These costs are accredited by OPO Oeschger and reimbursed to the customer with a bonus of 2% of the turnover transacted using E-Business.

The 25 field personnel also record and send all orders using the same tool as customers. In total an annual turnover of around CHF 40 million is generated from this via the E-Business solution.

Over the last ten years OPO Oeschger has invested approximately one million Swiss francs in electronic media. Owing to the continuous evolution of the E-Business solution, investments cannot be precisely differentiated in the model at hand. The repayment time cannot be exactly quantified due to the diverse influences listed above.
The success factors for implementation of this business case are well-known. The management identifies with the project and actively participates in it. The staff it affects are involved and thus become participants. Few objectives are set and those which are are precise and achievable. The success factors which apply here can be found listed in a deduced and detailed form in the book "Successful restructuring in SMEs" [Hafen et al. 1999?, which illustrates an implementation method based on this. This project was carried out in isolation from this book, but was executed superbly along the same lines.

The success of the IT solution itself can be found in the consistent, pragmatic use of the available technology. The internal and external integration achieve very high standards, without overtaxing customers or staff technically.

Customer orientation is a key factor. The external integration became an advantage for customers, as standards were established with the manufacturers of the joiners' software.
Siegenthaler; Marcel (2003): OPO Oeschger AG case study in: Schubert; Petra; Wölfle; Ralf; Dettling; Walter (Eds.): E-Business ingegration – case studies on the optimisation of electronic business processes; Munich; Vienna: Hanser Verlag; 2003; pp. 39-52