Deployment of internet-based project management at Obermeyer Planen + Beraten GmbH
Management of realisation projects in the case of buildings poses a particular challenge: numerous sub-services of a greatly varying nature have to be coordinated in an extremely wide-cast value creation chain. The deployment of internet-based project management (IBPM) allows extensive integration of all those involved in the project and significantly changes the workflows of previous project steering departments. In this case study, deployment of IBPM by the company Obermeyer Planen + Beraten GmbH is shown by the example of construction of the BMW plant in Leipzig.
Background and industry sector:
Obermeyer Planen + Beraten GmbH is one of the largest German planning companies in the construction sector. Established in 1958, the service provider is currently in operation with approximately 700 employees in Germany in more than 20 locations and with numerous representatives and business interests throughout the world. In 2002, Obermeyer generated a total turnover of just under 77 million euros.

The company sets itself apart in particular through its capability to take on total responsibility for the planning of complex construction projects. In Obermeyer's employ are experts from all disciplines in construction planning, from management to politico-economic issues.

The company finds itself in a very difficult economic climate. Construction investments have been declining for years and the over-capacities in the construction industry have not yet been reduced. As a consequence, prices are under considerable pressure. The first priorities in light of the situation at hand are therefore to develop the service capability of the company and to safeguard jobs. In order to attain these goals, the company has identified the objectives of raising efficiency and productivity, in particular by deploying computer technology, that represents the chief work tools in planning (IT/CAD).


Product and target group:
The range of products encompasses almost all areas of the construction business. Planning work in the areas of building construction, engineering technology, environment and transport infrastructure is carried out in close consultation with the customer. In order to take on total responsibility for projects, a flexible organisational structure and individual competence resourcing of expert teams are required, which in turn requires a concentration of individual services and thus the intensive networking of a constantly increasing number of specialists. The establishment of a distinct and perfectly functioning project management unit - both in terms of organisation and content of its remit - is a prerequisite for successful handling of total responsibility for a project. The project management unit represents an core competence of Obermeyer.

Obermeyer's clients include institutional principals in the public domain, as well as companies and investors from the private sector. Both the nature of the customers and the scale of the projects vary greatly. In particular, among the parties involved in projects are represented organisations of all categories, from the smallest businesses to major companies - with accordingly varying backgrounds, especially with regard to the use of modern information technology.


Project management:
The subsection "Project management" and in particular the project "Construction of a BMW plant in Leipzig" will be dealt with in this case study. The latter project concerns the specialist department at Obermeyer of project steering and project controlling. The 35 employees take on all tasks which can be delegated by principal. This includes the four area:
Organisation, information and communication
Quality and quantities
Costs and resources requirements
Deadlines, workflows and coordination
Obermeyer considers itself a pioneer in the German construction industry
, which has recognised the consistent implementation of information technologies in all areas of the company as a significant competitive factor and which has been pushing this forward since the 70's. Such a large practice is dependent on this implementation in order both to remain competitive and enhance competitiveness through continuously increasing efficiency. The basis of all project steering activities at Obermeyer are the established strategic objectives.
Quality management norms serve as indicators of customer satisfaction
Continuous enhancement through "knowledge management project steering"
Decisive implementation of new communications technologies
The head of department is a main initiator of E-Business activities in project management, he is fully supported in this endeavour by management.


Importance of E-Business in project management:
The project-related deployment of communications technologies, independent of location where employees and those involved in the project are based, is considered, besides quality and knowledge management, to be a decisive factor in a project's success and therefore represents an important strategic objective. Obermeyer's E-Business vision is:

Implementing E-Business solutions should enable working processes on a high-quality level to be made even more efficient and services to be offered at a cheaper price. This should provide a basis in future for both maintaining and enhancing customer satisfaction and competitiveness of the company.


E-Business by project example: BMW plant, Leipzig:
The construction of the BMW plant in Leipzig will serve here as a showcase example of internet-based project management (IBPM); this project was completed by Obermeyer in a joint consortium with Assmann Beraten + Planen GmbH for principal BMW. More than 500 individuals are now registered as involved parties on the project, making it, according to information issued by the system operator conject AG, one of the biggest real estate projects ever to be processed 100% on an internet platform. Of the entire investment sum of approximately 1 billion euros, approximately 400 million euros are allocated to the construction project.

The special challenge for the project managers Assmann/Obermeyer lay in the specifications set down by the principal. Inherent in realising a construction project on this scale is a high level of complexity. The extremely short realisation timeframe and the tight budget made a decisive and holistic deployment of new information technologies for project management highly desirable.

The project got underway when a decision was taken on 18th July, 2001 in favour of Leipzig as location. In July 2001, the set-up of a virtual project room was initiated which since that date serves all companies involved as communications platform. By June 2003, roughly 90% of the planning and 60% of the construction work had already been realised. Construction measures for the production area are to be finished in autumn 2003. Further information about the project can be accessed at: www.bmw-werk-leipzig.de.


Partners:

IT partners:
Internet-based project management (IBPM) is a product line of conject AG. Established in the year 2000, conject AG is an independent IT and consultancy company with 65 employees (July 2003). According to its own information, the company is Germany's leading technology service provider in the property segment. Besides IBPM, the company offers other IT product lines, such as construction cost controlling (APSIS) and computer-aided facility management (BuiSy). conject delivers, besides software, customer-specific services, from project initialisation and user training to project-guiding cooperation, supervision and consultancy. For these activities conject has at its disposal an extensive network of partners, one of which is also Obermeyer.

Thus, IBPM is particularly effective because it allows a synergy of planning, consultancy services and project scope technology which in turn enables efficient networking of all those involved in a building project. All tasks which have to be taken into account in the completion of a real estate project based on the technology are offered as individual solutions. The goal is a standardisation of core processes with the aid of IT solutions according to the motto "building with a better network".

Business partners:
Obermeyer's business partners here are in the narrowest sense the partner companies Assmann, in conjunction with whom the project management commission was taken on, and BMW AG as contractor and builder owner. In the broader sense, however, every one of the over 500 people involved in the project (constructor, project managers, planners, specialist experts, executive companies and suppliers) are integrated into the project management processes to a varying extent and can be considered as business partners. That includes, for example, the following of tender issuing process and likewise the exchange of all planning and project documents between those involved via the platform.

Choice of partner:
Having evaluated several providers, Obermeyer opted to enter into a long-term partnership with conject AG and IBPM – despite the imminently emerging risks associated with the then still very young start-up company. conject convinced Obermeyer firstly because of the development scope offered by its software product and secondly because Obermeyer saw the promise of an improved service due to the close proximity of conject's company base and thus additionally better starting conditions in which to develop a long-term, stable partnership. This was to raise the reliability in future.
The project scope technology consists of an ASP solution (Application Service Providing). conject operates the E-Collaboration application and makes it accessible for use via an internet server. The business partners need not install any local applications, as access is enabled via the internet by means of a standard browser. As a result, it is possible to integrate such a large number of heterogeneous companies into the workflows of project completion.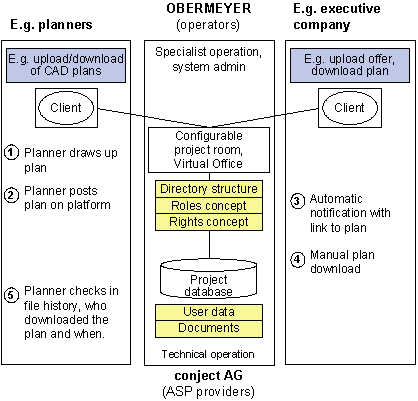 Fig. 3.1: External integration of business partners with the aid of conject ASP solution


The business perspective:
Realisation of a construction project, especially one on this scale, requires coordination of an extremely wide-cast value creation chain with a large number of greatly varying part tasks and that on a one-off basis for the precise purposes of the project at hand. This coordination task is precisely the service tender which the consortium Assmann/ Obermeyer was awarded by the principal BMW. The project managers are mainly responsible for organisation and completion of the building project, tasks in their remit include setting up project organisation, as well as steering project realisation and planning processes. Important among these are the channelling of information and communication flows, as well as the organisation of quality management. It is the job of the project steering company to complete the BMW plant within the agreed terms (quality, deadline and cost).

Classic project management was performed sequentially with a strongly hierarchical orientation. An organisation handbook, in which every procedure and target processes for all those involved had been bindingly laid down, formed the basis for the entire handling of the project.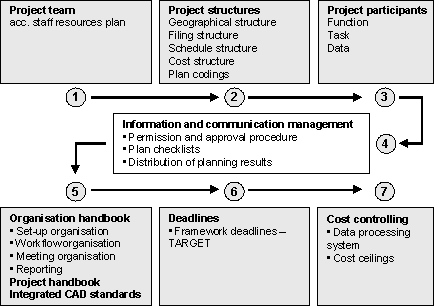 Fig. 3.2: Classic project management

During the classic initial phase of the project, the entire flow of documents and/or information was planned in a conventional way: those involved in planning perform part tasks according to their contracts and distribute interim results according to traditional organisational patterns (obligation to supply, obligation to collect). The goal is to coordinate and integrate planning processes for each planning phase (planning of drafts, permissions, execution, calls for tenders). Besides the obligation to integrate of the object planners/architects, there is an obligation to coordinate on the part of the principal, or his project managers.

As a result of the use of IBPM, the procedural approach has changed. At the beginning of a project, project regulations are laid down and made available to all those involved online. Thus the classical organisation handbook is superseded. All information and communication processes are influenced or indeed defined by the functionality of IBPM. The planning results in the separate planning phases – including the building execution phase – come into being as an integral element of a continuous exchange of documents via the virtual project room. All steps in the process are documented by the system. Workflows (system-controlled task allocation) complement conventional coordination meetings.

Fig. 3.3: Internet-aided construction project management in the norm phase


Process view:
The tasks steered by the project managers can be sorted roughly into the following process groups: project initiation, following planning procedure, for calls for tenders and order processing (see fig. 3.4).

Fig. 3.4: Significant performance phases in IBPM as shown by the example of the BMW plant in Leipzig

Applying IBPM leads in some cases to radical changes in task allocation and in workflow procedure. This in turn means that whole procedural steps, tasks and areas of responsibility are transformed and relocated beyond company boundaries. Where hitherto the onus was on the issuer to supply information, the onus is now upon the user to avail himself of all necessary information from the project room – the document issuer's obligation to supply is complemented by the document user's obligation to collect.

Process group A: planning process
The extension of the obligation to supply to include the obligation to collect is best illustrated by the planning procedure. Hitherto, plans, having been approved and released, were sent out in paper form using complicated distribution lists and despatched to all addressees by post. As a consequence, not only did the responsibility fall to the plan issuer to supply all relevant information, but also to despatch this information to the respective addressees. The new distribution of responsibilities looks like this:
Orientate CAD organisation to planning process in the project room: Project managers
Enter on an ongoing basis into the project room plan interim status as basis for meetings: respective planners
In the project room, mark all planning results (all project-relevant plans and written documents): respective planners
Download required plans and written documents: all authorised parties involved on project
cess group B: Bid / tender process
Awarding tender is in itself a task exclusively performed by the principal. The platform enables a logically self-contained bid and tender award process where authorised persons have the option to control and intervene in the proceedings at any point. The main steps of the process are:
Pre-selection of applicants via the project website: project managers
Enter bidder list in tender platform: project managers
Transfer bid documents from the project room to the tender platform: project managers
Request for submission of quote (system-integrated fax/e-mail): having obtained access authorisation, bidders fetch documents from the project room, work on these locally on their PC and upload their quote into the project room: bidders
Planners receive notification of arrival/are authorised to access price file: project managers
Pass on bid evaluation to BMW purchasing department, transmit price comparison list as digital file: project managers in conjunction with planners
Process group C: order processing
Order processing is typified by an extremely wide geographical distribution of all those involved while at the same time there is a very great need for coordination. The main process steps are:
Initiation procedure for executive company: project managers and object supervisors
Training of executive company in use of the project room: project managers
Fetch order fundamentals from the project room (a repro service provider is integrated in the system): executive company
Enter execution fundamentals into the project room: executive company
Exchange execution documents via the project room:
Invoices after checking: project managers and object supervisors
Amendments as ordered by contractor: project managers and object supervisors
Order-related correspondence and schedule: all responsible parties


Application view:
IBPM represents an integrated solution. Integration of all business processes and involved parties pertaining to management of the project occurs via the internet. It is stipulated which file formats are used, for example, for CAD plans. Transfer of files to the systems of the separate companies occurs by means of their import/export functions in a manual dialogue procedure.


Technical view:
IBPM possesses a thin-client architecture, which does not require installation on users' PCs. Users access the conject platform by means of a standard web browser in which HTML, several Java applets and Java scripts are used. Communication with the server occurs exclusively using HTTPS protocol and is therefore easy to integrate into existing security systems, such as, for example, firewalls.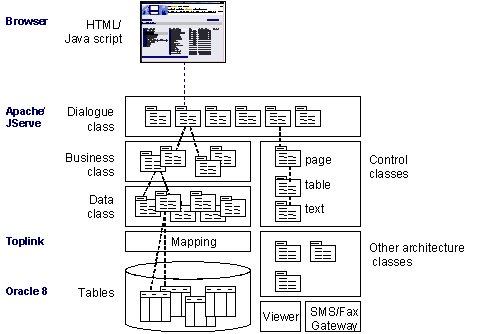 Fig. 3.5: Technical architecture of the conject platform
Project initialisation entailed a key task: prerequisite for applying IBPM was not only the consent of the partner Assmann in project management, but also, in particular, the consent of the principal BMW, which is affected by this decision to a great extent. Responsibility for introduction of IBPM in this regard fell to the company Obermeyer.

The basis for efficient deployment of IBPM is the project room, modified to individual needs, with directory structures and concepts of roles and rights. To this end the requirements and specifications laid down in the organisational framework were orientated to the functionality of the project room. Advantage was taken of the opportunity to redesign workflows and processes individually and according to current technical possibilities.

Use of a sensibly structured project room is relatively easy for practised PC users. Induction took place by means of user training provided by conject according to the "train-the-trainer principle", subsequent training is internal and/or simply by means of learning by doing. conject provides a professional service hotline for any queries and problems that may arise. Thus initial qualms on the part of users were able to be swiftly dispelled.
Maintenance:
Both conject and Obermeyer take care of the day-to-day running of the platform. Obermeyer is responsible for the entire specialist guidelines and queries from users. One employee is allocated to this task area, who covers both project-related administration and the expert hotline. Technical operation of the platform falls into the remit of conject, whose responsibilities also include technical support and a hotline, as well as the realisation of IT-specific requirements and further product developments.


Costs and benefits, profitability:
Investments in technology on the part of users are not required, provided internet-enabled PCs and a fast internet connection are already in place. The licence costs of the ASP solution amount in the case of this project to approximately 0.05 % of the total investment sum. Licence fees are normally charged on the basis of the storage volume made available on the server which currently stands at 50 Gigabytes.

It is difficult to arrive at an overall, definite figure in terms of hard cash for the total benefit gained through implementation of IBPM. There are, however, numerous isolated benefits which have to be considered on an individual basis and for every party involved. Several of these isolated benefits are even so concrete and tangible, that they go far beyond the direct costs of the platform. Massive cost-saving potential and extensive relocations between project participants result, for example, with regard to tracing, copying, transport and travel costs and finally for the time taken for every single process step. The cost saving potential realised makes itself clearly felt in a few striking changes, such as, for example, the elimination of numerous duplications of plans and the cost of distributing and dispatching these. Here alone, Obermeyer estimates that overall savings of over one million euros have been realised in the case of all those involved.

The benefit source in comparison to the conventional workflow procedure lies chiefly in the reduction of time needed and in an improvement of the working conditions with regard to the following tasks:
filing and archiving of all project-related documents
access to and transportation of documents and data
swiftness of coordination (process acceleration)
project management overall (involved parties more easily reached, higher level of information, better process and information quality, standardised and thorough filing order for all those involved)
A substantiated profitability estimate has not yet been conducted, due to the complicated nature of putting a figure on benefit. Obermeyer put internal benefits in the BMW project at roughly 3 to 5 % in cost savings. Because of the pilot character of the application, a great deal of time has be invested in gathering the required experience in order to make best use of the system. Obermeyer, however, predicts there will be savings on future projects based on IBPM which could definitely reach up to 10% compared to conventional project workflow procedure.
The most important success factors of IBPM:
direct networking of all parties involved in the project at a content level, which leads to improved communication and thus to acceleration of processes.
the possibility of effectively implementing project coordination and project management; i.e. working at different times, in different places is extensively supported.
seamless traceability of processes and content and thus the establishment of a transparency which hitherto did not exist (important, for example, for conservation of evidence).


Special features of the solution
The high number of both parties involved and reservations and refusal in the face of new developments, in many cases typical of the industry sector, made a consistent contractual obligation regarding application essential for all involved parties on the project. Every contractual partner was obligated to use the project room exclusively as exchange medium for all project documents. Therefore, project-relevant data and information are basically only available via the project room.

According to information supplied by Obermeyer and conject, the project management of construction of the BMW plant in Leipzig is with regard to the consistent and exclusive use of the internet as transfer medium unique in Germany to date. For Obermeyer, it is the first project ever to be processed in this way.

Difficulties
overcoming obstacles caused both by competing systems used by a wide variety of users, in technical terms (exchanging a wide variety of different file formats via the platform) and, in particular by personal reservations with regard to the introduction of IBPM.
The system requirements, such as internet access, powerful network connection and sufficient computer expertise were not all in place in the case of some project participants.

Lessons Learned
Changes have to be scheduled to take place slowly to ensure that they are also accepted. Resistance and reservations on introduction of IBPM turned out to be lower than expected after the first positive experiences. Due to contractual obligation to use the system, the fundamental debate was eliminated as to whether the system would be used or not.

Benefits proved already on first application to be definitely greater than the expenditure involved. The practised learning process with regard to this project is additionally a lucrative investment for further projects. Dramatic efficiency increases can be realised on future projects due to the experience base now created. The focus with regard to integration is directed in this regard more at project participants and less at technical integration.

The principal must be behind the whole project and share responsibility for the decision in favour of the IBPM. Obermeyer sees the BMW project as evidence for the market readiness of the product IBPM from conject AG and its efficiency-enhancing potential. The project thus also serves as a basis for overcoming still remaining reluctance on the contractor side with regard to application of IBPM on future projects.


Internet-based project management ins still a relatively young technology, where not all possibilities have been exhausted yet. Important basis for success were also the professional service on the part of the ASP provider and the close cooperative partnership between Obermeyer and conject AG from the outset.
Daxenberger; Georg (2003):Case Study: Obermeyer Planen + Beraten GmbH; in: Schubert; Petra; Wölfle; Ralf; Dettling; Walter (Eds.): E-Business Integration - Case studies in optimising electronic business processes; Munich; Vienna: Hanser Verlag; 2003; P. 235-248.