E-Commerce at Staples Inc.
Staples Inc. utilises its experience from wholesale trading in office supplies, its extensive distribution structure and its customer service expertise. The transition from wholesaler for office supplies to leading provider for office products and services is to be achieved by combining existing experience with the use of Internet-based information technology. The incorporation of partners into the fulfilment process plays a key role.
Staples has over 50,000 employees in the USA, Great Britain, Canada, Germany, the Netherlands and Portugal.

Staples serves customers via more than 1300 office supplies outlets, catalogues, the Internet and a commission business (a business form where companies are supplied with office materials on previously agreed terms and conditions). The company has a turnover of 11 billion US$. In February 2001 turnover was distributed as follows for the main products: office supplies and services 39.9%, office equipment and telecommunications service 28.7%, computer and accessories 23.9%, office furniture 7.8%.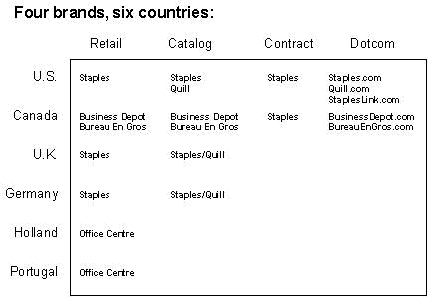 Fig. 1.1: Product groups and customer profiles

The company has 8313 shareholders worldwide. 77% of the company's shares are in the possession of institutions; this is significantly more than the average 52% for the industry. Staples' growth rate for capital spending stands at 31% compared to 21% in the industry; this reflects its investments in wholesale markets.

Staples finances its operations mainly through retained profits and long-term liabilities. The company's long-term liabilities stood at 430 million US$ in April 2001 and the debt-capital ratio was 30%. The long-term liabilities fell by 21% in 2001 compared to the previous year. Revenue increased by 28% within five years; the average was otherwise 20% for the industry. Staples is aiming for a growth rate of 19.4%, whereas the rest of the industry is hoping for an average of 16.1%. The ratio of sales to stock is 6.8. For the 12 months including April 2001 Staples' operating costs stood at 6.1%.

Staples competes in the office supplies industry in the business segments of stationary shops, catalogue sales and stationery mail order as well as office supplies. Annual turnover for the office supplies industry is estimated at 240 billion US$, of which Staples has a market share of 4%. The two main competitors are Office Depot with a 4% market share and Office Max with a 2% market share. The remaining 90% of the market is fragmented.

Staples is the recognised pioneer in the concept of offering large quantities of office articles in wholesale markets and a leading wholesaler for office supplies. The prices of articles are between 30% and 70% below the list prices of manufacturers. Staples sells the following products:

Office supplies: paper products (also for printing and engraving), postcards, school and office forms, official forms and materials, photocopying supplies, envelopes, typewriter paper, files, index cards, folders, ballpoint pens, felt-tipped pens, letter paper, greetings cards, carbon paper, business forms, spring folders and ink ribbons.

Furniture: office shelves, chairs, desks, filing cabinets, listing systems, shelf and storage systems, lighting, printer and computer stands and tables.

Technology: computer accessories, computer media, computers, portable computers, copiers, fax machines, digital cameras, scanners, network devices, printer cartridges and toners, office equipment, office equipment supplies, peripheral devices, printers, multifunctional devices, software, telephones and telephone equipment.

Commercial services: business printing orders, leasing of office furniture, automatic monitoring and inspection of parcels, long-distance and central telephone services, dialing and ISDN Internet access, customer-specific email addresses, Internet provider, registration of domain names, website design and development, software leasing, virus updates, consulting and professional IT services, Internet-based Intranetworks, business financing, accounts receivable management, business credit reports, computer maintenance, credit card processing, debt collection, salary payments, financial planning, online tax returns, personnel management, direct and address list shipment, marketing documents, corporate profiles and information material, online contact and solutions for sales management, professional design and assistance in legal matters and corporate insurance policies.

In the case of end customers Staples focuses on four main areas:
Consumers and self-employed people are served by Staples.com and kiosks.
Small companies and organisations with up to 100 employees are served by Staples.com, kiosks and StaplesLink.com.
Medium-sized enterprises and organisations with 101 to 499 employees are served by Staples.com and StaplesLink.com.
Large companies with 500 and more employees are served by StaplesLink.com
2. e-business vision and e-business strategy
Staples' vision of an e-business solution consists of the expansion of the product range and the extension of brand awareness through services. The company sees e-business as a transitional strategy in order to develop from a wholesaler for business supplies into a leading provider for office products and services.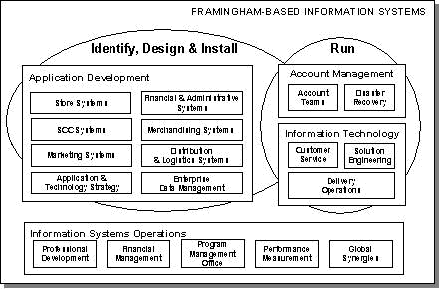 Fig. 2.1: The e-business solution

Staples' overall e-business strategy consists of a transition from wholesaler for office supplies to a leading provider for office products and services by combining its existing experience, extensive distribution structure and customer service expertise with information technology based on the Internet.

There are three components in Staples' e-business concept, which are all geared to increasing sales, whilst at the same time reducing overheads.
Staples.com, Electronic Business, uses the company's experience, purchasing power and distribution network in order to sell office products and services online. This business segment consists of three websites: Staples.com, a public website; Quill.com, an e-commerce website for medium-sized companies and StaplesLink.com, a secure customer-specific e-commerce procurement solution for medium-sized and large contract customers. Staples Internet kiosks were installed in the shops on site in August 2000. Up until the end of January 2001 the company had installed four kiosks in each of the 954 shops. In the kiosks the customers in the shop have the possibility to access 45000 SKUs (stock keeping units, a term from inventory control) and 100 000 software titles which can be downloaded; as a comparison, in a conventional store there are only 7500 SKUs. Staples offers its customers the possibility to pay for the purchases made at the kiosk either by credit care, similar to the system for a conventional e-commerce transaction, or to go to a till with the printout of the transaction and pay there. The system is programmed to ensure that all kiosk orders are immediately cancelled if they are not entered as having been paid by credit card at the kiosk or by means of a transaction at the till. NDI International developed the kiosks.

StaplesLink.com is a secure customer-specific e-commerce procurement website for contract customers. The website has been designed to help purchasing managers in companies to decentralise the purchase of office supplies, whilst at the same time centralising and monitoring costs.

The service spectrum of Staples covers e-commerce and e-business solutions for key accounts and retail traders.

Staples.com, the Electronic Business, utilises its experience, buying power and its distribution network to sell the full range of office products, furniture, technology and commercial services online to private and business customers.

StaplesLink.com, the secure customer-specific e-commerce procurement website for contract customers provides a direct inventory control and a recording possibility between company and customers. The service package comprises individual pricing, terms of payment, consumption report and warehousing of brand articles.


Partner for implementation
Staples financed its existing distribution network via loans in order to start Staples.com. The online orders are delivered to the door by the Staples fleet of lorries. 100 distribution facilities support the catalogue business.

Cardservice International provides the payment services [payment solution]. Cardservice International, a credit card processing company with more than 12 years experience, offers business enterprises a full range of different payment methods, including credit and debit card processing, cheque guarantees, point of sale terminals on retail traders' premises or in offices, solutions for Internet payment methods, cordless terminals for the processing of transactions and the LinkPoint Secure Payment Gateway with three online products and other payment options.

Company for ERP solution/current IT partner
Staples uses JDA (package based on AS/400) for its ERP solution. JDA Software is a worldwide provider of integrated software and professional services. JDA provides management support for firms with several business segments.

Internet agency
Staples uses Sapient to develop Staples.com websites. Sapient is a business and technical advisory company supplying worldwide strategies and technically competent design as well as technical expertise and know-how for their implementation.

Selected partners
Staples has a partner agreement with ICL, a subsidiary of Fujitsu, which is in charge of computer configurations, installation and support. ICL designs, builds and operates IT solutions and services. ICL works with Staples on guaranteeing system integrations by installing and maintaining a complete system. This includes back office servers, terminals at the point of sale, time clocks, printers and tills. The services for configuration and installation include project and implementation management, site reports, hardware integration, software copies, documentation of preparation and installation, wiring and support. The tasks of ICL are as follows:
The installation of kiosks in which customers specially order products online and can pay for them in the shop, and
The establishment of the dispatch centre, a special department in the store responsible for packaging and dispatch.
In May 2001 a partnership came about between Staples and Elcom International. Thus, Staples became the preferred supplier of office supplies for Elcom's remote enquiry e-procurement system, PECOS Internet Procurement Manager (PECOS.ipm). This partnership allows Elcom customers and users to access StaplesLink.com and helps purchasing managers to save costs in terms of time and the control of office supplies. Customers and users can obtain realtime information about products, prices and availability via the Elcom website. This information is automatically returned to PECOS.ipm and inputted into the automatic ordering process.

PECOS.ipm is the remote enquiry e-procurement solution from Elcom, which is designed to automate the procurement process. It covers the whole operation from product selection and ordering through to payment. PECOS.ipm assists with the procurement of all large categories of corporate expenses. This includes general materials (IT equipment and office supplies), industrial MRO (maintenance, repair and operation), production resources, services and internal equipment.

PECOS.ipm provides the customer with browser-based purchasing functions with a self-service option, which it can operate directly from its computer. This service contains the online catalogues of many different providers and supports regular or agreed price formation for preferred suppliers. PECOS.ipm provides services which are functional at different levels, including support for enquiries about order status, automatic email authorisation and time-marked process inspection during the whole transaction.

In June 2000 Staples concluded agreements with ten strategic partner companies in order to be able to offer commercial services through its Business Service. The ten partners are:
OnTimeAuditor, an automated service for monitoring, tracing and returning express parcels for companies who process delivery with UPS and FedEx.
BizBuySell, a website with over 10 000 database entries of companies which are up for sale.
Dun & Bradstreet, a provider for business-to-business services, such as loans, marketing, purchasing and accounts receivable management and decision aids.
MergerNetwork, a website for medium-sized mergers and acquisitions, which lists over 3000 companies up for sale with an annual turnover of 1 million dollars or more.
Click Tactics, an outsourcer and provider for marketing services, which specialises in direct-response marketing, data management and implementation.
Innovyx, a firm with an Internet base for marketing systems which use email, the Internet and database tools to automate connections tailored to individual customers.
MyProspects, offered by MySoftware, supplies targeted lists of possible customers.
Zoomerang, a branch of MarketTools, Inc., is an Internet service which helps companies to prepare professional reports and to analyse feedback.
Pre-Paid Legal Services offers a number of different services in the legal field at a fixed monthly charge.
Lean2.com is the manufacturer and distributor of e-learning solutions for business, government and private users.
Customers of Staples Business Services therefore have access to more than 85 different service categories offered by selected traders and can obtain an offer from more than 20 000 sellers.
Staples operates its own warehouse and distribution centres for all market segments. For cost reasons Staples sometimes however transfers implementation to outside companies.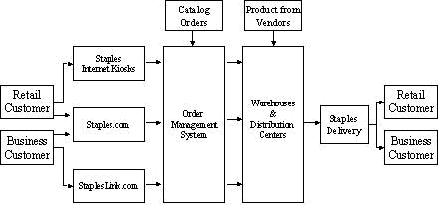 Fig. 3.1: The fulfilment chain [e-fulfillment process]

Type of fulfilment service
Staples is strengthening its existing distribution network (such as warehousing and transport) to serve Staples.com. Online orders are delivered to the customer's door by Staples' own fleet of vehicles from 100 facilities which support the catalogue business. Staples also operates four large distribution centres which supply its wholesale markets. The company is increasing connections and efficiency between its online and traditional retail traders due to terms of delivery. Staples is gathering its profits from website sales via its retail outlets. If an order is placed on the website, this information is forwarded through the same channels as the catalogue orders. Contrary to normal practices in the industry, processing of delivery is not passed onto outside companies. Thus Staples has complete control over logistics and thus considerably improves the IT integration between the logistics department and Staples' other business segments.

Four Staples distribution centres store and replenish stocks in the whole of North America. Each distribution centre stocks 95% to 97% of all the products that can be found in a Staples retail outlet. The distribution centres keep and track between 8200 and 9200 SKUs and process between 50 and 300 orders a day.

Solution of the fulfilment partner
Staples uses a warehouse management system called Exceed, a UNIX version by EXE Technologies. Distribution centres and warehouse management systems are connected to the company's data centre via a frame relay wide-area network. Exceed is also connected to the company's host system and therefore has access to information about sellers, orders and revenue. Each night an IBM AS/400 gathers customer sales information from the retail outlets in the company's headquarters and thus updates the stock on hand in each shop. Each distribution centre receives follow-up orders from the retailers and can therefore replenish its warehouse stocks with the aid of the Exceed system.
Staples uses a joint system for replenishing stocks and the forecasts in all its business channels, including the national and international retailers, the direct order catalogue and the websites. E3 Corporation set up the joint system. The business channels of Staples use one or both E3 Corporation products: E3SLIM (Store Level Inventory Management) for the stores and E3TRIM (True Replenishment and Inventory Management) for distribution. The E3 products are based on forecasts of previous sales, current trends and seasonal differences and therefore ensure that the goods are already in stock before they are requested. The system uses Staples' previous customer demand data in order to make its own forecast for the individual SKUs in each store.

Retailers in the USA use E3SLIM and E3TRIM. Most Staples products go from the seller to the distribution centres and then immediately to the retail outlets. E3TRIM assists with the management of the product flow from the seller to the distribution centre; E3SLIM uses a transit logic which assigns the products in the distribution centres to the stores in real time. Thus, products can reach retailers within one day via the distribution centres. E3TRIM ensures warehouse planning at warehouse and distribution level. It assists Staples' buyers when deciding when and how much they should purchase for each distribution centre.

Distribution centres for the business segments Contract and Commercial and Staples.com work differently to those for the retail trade. The implementation of individual orders from the website, from the catalogue or from contract customers is volume-wise less than the full product pallets that go to the retail trade. For this business segment Staples uses a warehouse management system that was developed by Manhattan Associates. It allows Staples to single out a large number of small orders to the Contract and Commercial distribution centres.
Staples' launch of its Internet strategy and its operation required adjustments to be made to fulfilment enterprises, many of which could be realised by concluding agreements with third-party specialist providers.

Staples reorganised its business in order to be able to operate as a company at all levels and to be able to serve its customers on all four sales channels at the same time by using a joint information system. The system consists of various software solutions from different manufacturers. The supply model had to be modified to include sale by Internet and kiosk, online services with commercial customers and the follow-up order and payment systems.

Software solution/programming
Staples bought a few existing software programmes which were programmed by the respective manufacturer. If any additional software programming is necessary, this will be dealt with by IT personnel in-house.

Staples uses an IBM AS400 and some UNIX systems as well as Microsoft IIS technology for B2C and IBM Websphere for B2B.
The Staples department for information services (Staples Information Services Department) has approximately 500 employees and is responsible for all requirements in the field of information technology. This includes development, operation and maintenance of the internal network and the databases, integration, website development design and hosting. All expenses for information technology must be directly linked to the core business and must show a visible equity return.

The efficiency of the cost control and the e-commerce business is reflected in the profits in the first quarter of 2001 which far surpassed expectations with an increase of 182% compared to the previous year.
The success factors lie in the central management of IT systems, the corporate culture and the integration of conventional business practices in the practice of network and IT business.

Specialities of the solution
Staples is increasing its pioneering and leading position as a trading company for office supplies through the possibilities of e-commerce.

Unique Selling Proposition
The unique selling proposition lies in the fact that customers receive a consistent service level and improved access to products on all sales channels.

Improvements exist in the guaranteed availability of products and the larger number of SKUs, which leads to an increase in sales and profit and an improved customer service.

Staples.com is separated on an organisation level for reasons of speed. Thus, the size advantage was sacrificed. The possibility of a few internal problems with employee moral could perhaps have been avoided if communication with employees in the non-dotcom sector had been better.
The strategic use of e-business and e-commerce solutions can help an already successful company to increase sales, market shares and basic viability.

Note by the author
In 1998 Staples extended its business to include the catalogue segment. Staples quickly recognised that the new sales channel, which arose from the catalogue business, complemented its retailing segment and created a possibility to reach customers who buy on different channels (multi-channel customers). Such customers buy in both retail outlets and by catalogue. On average they spend twice as much as customers who only shop in retail outlets. This realisation was confirmed when Staples started its Internet shop. By 2000 it was clear to Staples that customers who shop via the retail trade, catalogues and Internet spend 4.5 times as much as the average retail customer.

Staples had originally built up its e-business segment as a separate unit, complete with separate goods distribution (tracking stock). Staples changed its strategy when the company learnt more about the behaviour of multi-channel customers and started to feel the effect of the slump in the American financial markets. This change of strategy was aimed at linking all business units to each other in order to maximise the growth possibilities for existing multi-channel customers.

Staples consolidated its public website and the catalogue business into one unit in order to serve small businesses. In addition, StaplesLink.com amalgamated with the contract business, and Quill.com with Quill, in order to serve larger customers. The merger of e-business units with traditional business segments allowed Staples to benefit from the parallels in the case of customer profiles, marketing opportunities and the infrastructure for implementing orders. Staples was thus able to jointly utilise customer data more effectively internally, organise marketing costs more effectively and strengthen the individual business segments in order to gain new customers, retain existing customers and increase purchases in both cases.

Staples used the experiences gained from its unequalled "Pure-Play" Internet strategy by combining this with its existing experience in the office supplies industry so that the company was strengthened.

These advantages were achieved through the joint use of information technology and e-business tools across the company as a whole. The combination of retail and Internet experience by installing the kiosks is an example of this integration. The kiosks offer customers who buy in retail outlets and through the Internet the same experience in service, product range and product availability. Employees in the store can use the kiosks to retrieve product and service information to which they would perhaps otherwise not have access. This increases efficiency when selling, as staff can show and offer customers more products in real time than would be possible in a single store.

The kiosks offer customers and staff a wealth of information about more than 100 000 products in the online range. The kiosks also ensure that Staples almost never misses out on a sale. If a product is not on the shelf, the customer can order it through a kiosk in the store. It is delivered on the next working day with the same level of service as for a catalogue or special order.

The crucial success factor for e-fulfilment: The crucial success factor for processing orders electronically at Staples is the integration of e-business into existing and general distribution systems. If customers go to Staples.com, they first see an online form in which they enter their postcode, so that they can immediately view availability of stock for the local delivery network in real time. Thus, the Staples enterprises can work efficiently, as they did not have to build up a new distribution network to start with to accommodate their e-business strategy. The customer is therefore always supplied in the same way, irrespective of whether he/she ordered in the traditional way or online. The successful e-fulfilment strategy is made even easier by the general business characteristics of the company, which are:
IT flexibility and centralisation
Large customer base
Service partners who are willing to cooperate
An already secure position within the industry
A corporate reputation of high quality
Resources
Jeannet; Jean-Pierre und McCann; W. Caleb (2001): Staples case study; in: Dettling; Walter; Schubert; Petra; Wölfle; Ralf (Ed.; Fulfilment in e-business – practical concepts by innovative companies; pp. 239-253; Munich; Vienna: Hanser Verlag; 2001.